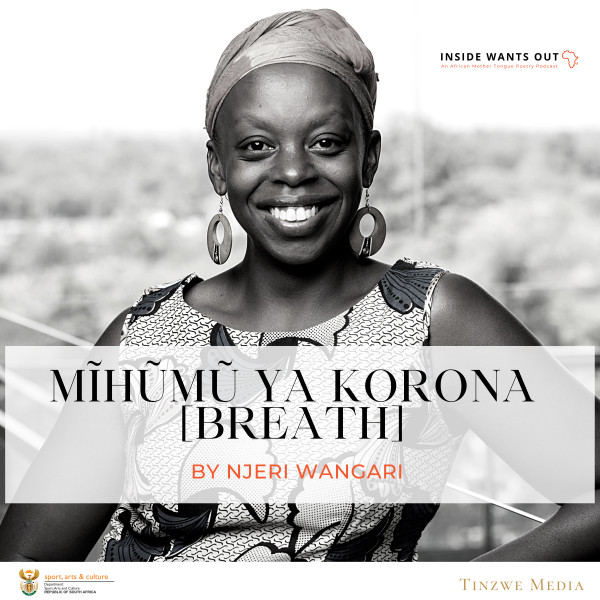 Mĩhũmũ ya Korona (Breath) by: Njeri Wangari | Ep 1
Episode 1 of "Inside Wants Out" begins with a poem titled Mĩhũmũ ya Korona, which translates to Breath in English, written and narrated by Njeri Wangari from Kenya.

This episode featured an introduction by the poet who explains the reason for the poem. Then you'll hear the poem narrated in Gĩkũyũ (Kikuyu) and lastly the English translation of the poem.

About the Poet:
Njeri Wangarĩ is an acclaimed spoken word artist, writer, speaker and digital marketer whose passion and work lies at the intersection of arts, culture, technology and new media in Africa. Hailed among the most talented Kenyan poets and performers, Njeri has come to be known as the voice of reason and change in the Kenyan poetry circles due to the content and theme of her poems which range from Culture, religion, human rights, technology and everyday challenges in the Kenyan society. Njeri is a 'Poet extraordinaire' and arguably Africa's first poetry blog pioneer. She started her career as a blogging spoken word poet in 2004 and has been running kenyanpoet.com to publish her poetry and her writing on Arts & Culture in Africa. Her poetry has been presented across Africa, Asia, North and South America. She represents Kenya's first generation of contemporary poets and spoken word artists and is one of Kenya's pioneer bloggers and spoken word artists. She co-founded Bloggers Association of Kenya (BAKE) where she served as the Direct of Training & Outreach. Njeri is the author of Mine and Mind Fields; My Spoken Words, a 114 paged collection which contains over 40 poems that explore themes on; Urban Blues, Love, Identity, Traditions, Cultural changes, Exploitation and Politics among others.