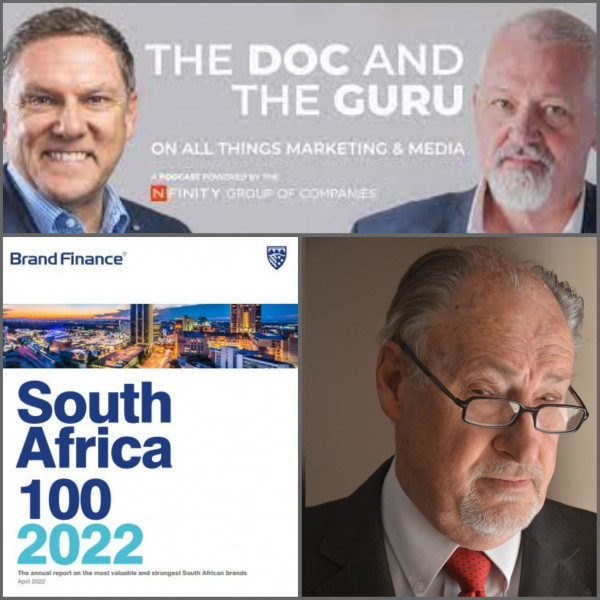 EP126: The latest Brand Finance report on SA Most Valuable Brands has been released this month - Jeremy Sampson
We welcome back onto the Doc and Guru Podcast The Brandfather – Jeremy Sampson – Managing Director of Brand Finance SA.

It has been over 100 weeks since the start of the pandemic and it is encouraging to note the performance of SA's top brands. During the first half of the pandemic SA's top brands declined an overall -2% in value. After the second 52 weeks brand value has seen overall brand value increase by +8%.

It's not surprising that this year's theme is SA Brands Driving the Economy and the report has been expanded to include South Africa's Top 100 brands.

The big hitters dominate again (in terms of brands and sectors). Finance and data still top the pops but it's interesting to see the performance of Multichoice given the current state of the subscriber TV market.

In any truly dynamic report it's rarely the ranking itself that provides the most intriguing insights but rather the shuffling in the ranks. Not surprisingly the retail sector has been first out of the post Covid starting blocks. 5 of the Top 20 Most Valuable Brands are retailers, and retailers account for 4 of South Africa's Top 10 Strongest Brands.

Jeremy highlight several critical factors which are key to the driving Brand value and growth in the retail sector.

In this episode, we unpack the notion of a soft power – the brand's ability to co-opt rather than coerce consumers. Against the backdrop of Putin's War in Ukraine the Global Soft Power Index provides a fascinating insight into the positioning and performance of Brand SA.

Listen in this week to the Doc and Guru Podcast and download the Brand Finance SA Top 100 Brands 2022 report free.

Was Henry Ford right when he said
"you can't build a reputation on what you say you're going to do"?