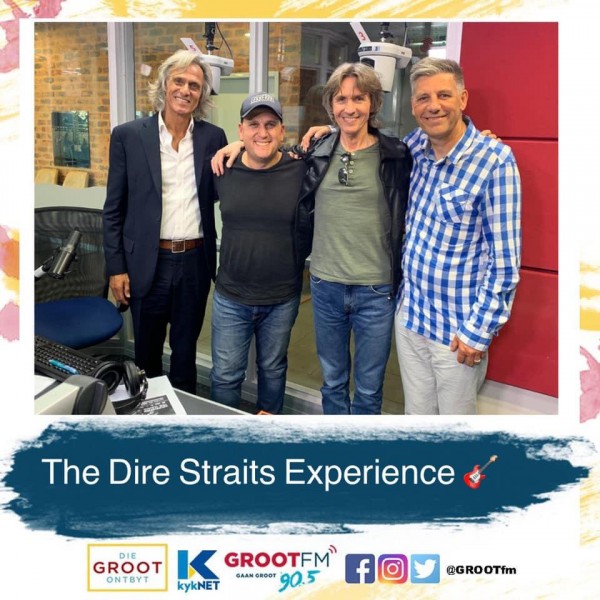 #SlatDiePad The Dire Straits Experience
INTERNATIONALLY ACCLAIMED, 'THE DIRE STRAITS EXPERIENCE', HEADS TO SOUTH AFRICA FOR ONE NIGHT ONLY

25 years might have passed since one of the greatest bands ever left a catalogue behind of some of the finest compositions that rock ever produced, but with a record 120 million albums sold, the music of rock legends Dire Straits will live on forever.

And now, die-hard Dire Straits' fans of all ages should accept 'you get a shiver in the dark' as you hear the delightful news; the internationally acclaimed, The Dire Straits Experience, featuring veteran Dire Straits members, Chris White and Chris Whitten, will head to South Africa for one night only on Tuesday, 15th October 2019.

Alongside White and Whitten, The Dire Straits Experience is fronted by Terence Reis and made up of some of the finest professional musicians the UK has to offer, who between them have worked with the likes of Elton John, Paul McCartney, Eric Clapton, Tina Turner, Mick Jagger, George Michael, The Killers and many many more.

In Terence Reis, I think we may have found the only person on the planet that is able to play and sing like Mark, but maintain his own integrity and identity. I think this is the very essence of why the fans have been so accepting of what we do. They believe in Terence as his own man. They know he is not trying to be Mark. Because of his respect for Mark, Terence is able to perform these songs in a very honest way that allows his energy and talent to come through. This is exactly what allows the performances to feel alive and fresh. Not slavish copies of a bygone time. Without Terence, this would simply not work."
And so it is that these songs, in all their ambition, grandeur and aching beauty, are once again presented live… for the fans that have kept them alive.