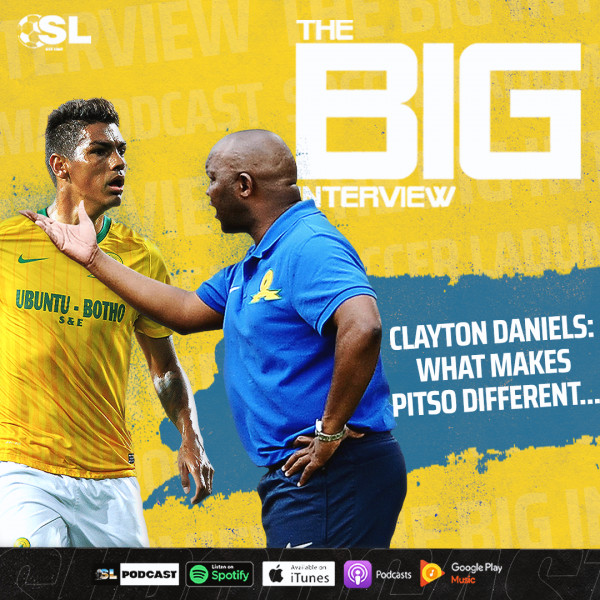 Clayton Daniels: What Makes Pitso Different...
In this Big Interview with Clayton Daniels, the 37-year-old speaks about how his career has gone 360 having now recently signed for Cape Town Spurs (formally Ajax Cape Town). Daniels started his professional career with Ajax Cape Town where he was offered his PSL debut and managed to score his first PSL goal in only his second game! Clayton explains the emotion behind making his PSL debut and what it meant to him personally. Since rejoicing with the Mother City, Clayton is making it a goal of his to inspire the younger generation by showing them that anything is possible. "I am so grateful to be where I am considering the circumstances I grew up with," says Daniels on the SL Podcast. Another goal Daniels is setting for himself is to help Cape Town Spurs challenge for promotion!

Daniels played a good chunk of his career under Pitso Mosimane at Mamelodi Sundowns when he joined Masanadawana in 2011. Daniels was then able to listen to Jingles himself and get first-hand experience working under one of the best coaches on the continent. "Pitso is local and knows the culture of South African Football, his analyzing style separates him from other coaches." Daniels goes on to say that Pitso has gained invaluable experience coaching internationally (Al Ahly) and now he has more knowledge. "Pitso has opened the door for other coaches."

On the latest episode of the Big Interview, PSL legend Clayton Daniels tells tales of his career right from the very beginning, all the way to the present day since joining Cape Town Spurs. Daniels tells us what it was like to work under Pitso and explains what makes Pitso different from other coaches!