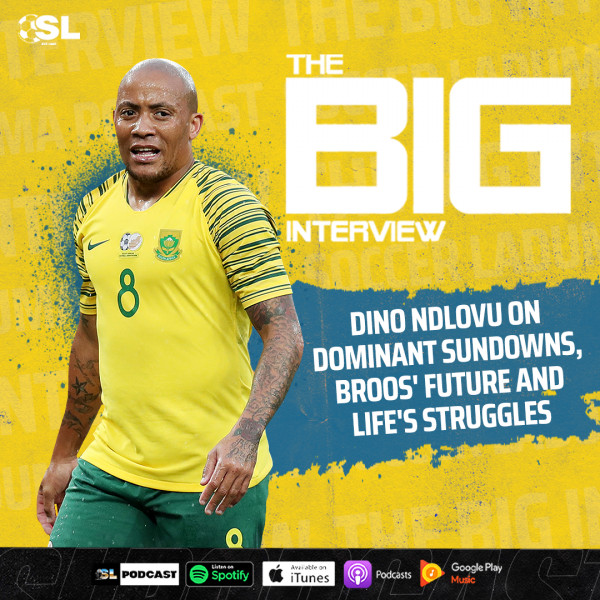 Dino Ndlovu On Dominant Sundowns, Broos' Future And Life's Struggles
Dino Ndlovu is no small name in South African football and neither is the striker's story. The 32-year-old forward joins the SL Podcast to share his career story, starting right where it all began. Dino tells stories about how he and his first agent joined forces against his club's ruling and how that club allegedly wanted to confiscate his passport. Dino shares his opinion on the current state of affairs in the Bafana Bafana camp. Dino poses the question "are the people running Bafana Bafana the right people?" He also suggests that the legends of the game, such as Benni McCarthy and Doctor Khumalo, should be given a role to play.

Dino shares personal experiences that he has endured throughout his career, providing never heard before information as to what has been the biggest struggle he's had during the course of him playing his football overseas. "the hardest part of being a professional athlete, is that you cannot be yourself, you have to live according to how people portray you" Dino continues by saying "Luckily that was only during the early stages of my career."

Later in the show, Dino gives an insight as to how and why Mamelodi Sundowns rose to power, stating that it didn't happen overnight. Risk and investment had to be taken and now the rewards are being reaped by the Brazilians.

In the latest episode of The Big Interview, Dino Ndlovu shares his story of his career, starting right at the very beginning. Dino also provides his opinion on the current state of affairs in the Bafana camp, the management that goes along with it, and how Mamelodi Sundowns rose to the top. Dino also shares personal stories about the struggles he has faced over his years of playing abroad.