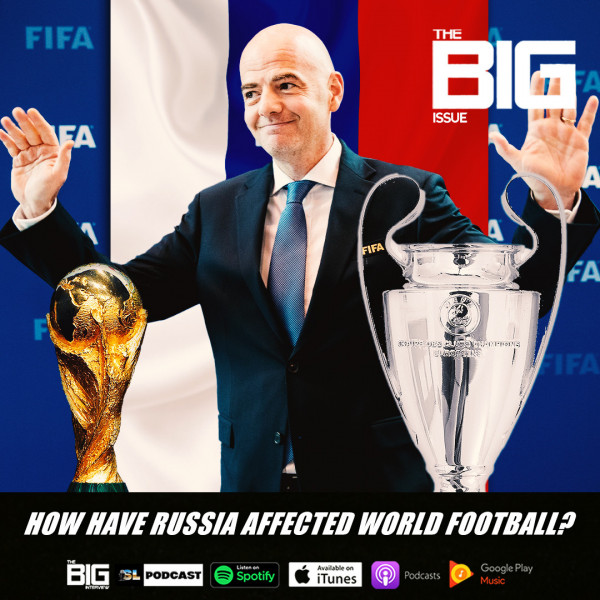 How Have Russia Affected World Football?
Towards the end of February 2022, Vladimir Putin and his Russian armed forces began their invasion of the bordering country Ukraine, starting the biggest European state on state conflict since World War 2. This has taken the world by complete shock, causing sanctions and a severe sense of condemnation from all angels. It goes without saying that humanitarian issues are extremely important, however on the latest episode of the SL Podcast, we wanted to look into the effects this war has on football around the world. Throughout the last 10 days, news circulating this issue has been rife, with current (soon to be former) owner of Chelsea Football Club, Roman Abramovich set to sell the club after rumours emerged of the Russian having ties with Putin himself. Although the 55-year-old businessman is denying a few of these claims, he is stepping down 'in the best interest of the club and fans.'

Another big talking point is that not only Ukrainian civilians, but also high profile celebrities have taken up arms to fight for their country and unfortunately many have lost their lives, including 2 professional footballers; The names of the two players who passed away are Vitalii Sapylo and Dmytro Martynenko. While the latter represented Karpaty Lviv's youth team, Martynenko played for FC Gostomel. Thousands of other sportsmen and footballers are taking a no-nonsense stand towards Vladimir Putin and clubs all around the world are joining forces in a band of unity to boycott, sanction, and condemn Russia in every way possible

On the latest episode of the SL Podcast's Big Issue, former Mamelodi Sundowns and Ajax Cape Town goalie Sean Roberts sits down with international football expert Kurt Buckerfied to discuss how Ukraine being invaded by Russia has affected world football. The gents discuss the upcoming sale of Chelsea FC, what clubs have done to their Ukrainian stars and how the world has reacted to this monstrosity.