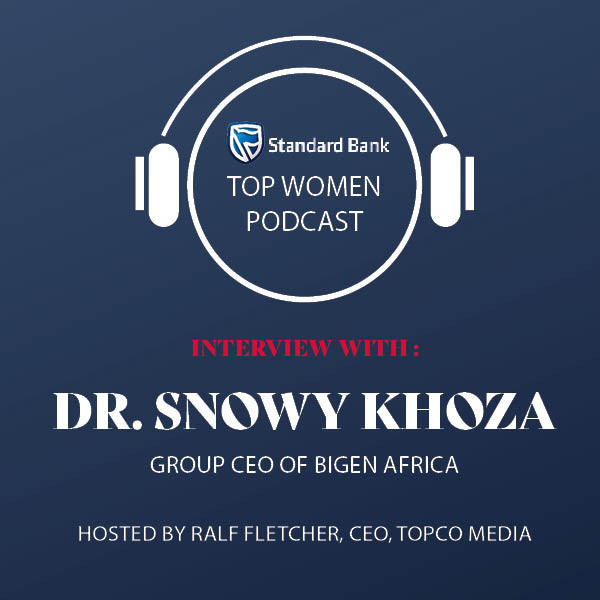 Transforming Lives and Communities - Dr Snowy Khoza
In this week's Business Unusual podcast, Ralf Fletcher, CEO of Topco Media, speaks to multiple award winner Dr Snowy Khoza, Group CEO of Bigen Africa and renowned for driving business growth in the infrastructure development sector. Born into a family which suffered extreme hardship, Dr Khoza has become one of the most influential women on the continent, and is passionate about transforming the lives of disadvantaged communities. Watch this inspiring podcast.

Dr Khoza is a seasoned executive, acknowledged strategist and development activist in the infrastructure development space. She is the Group CEO and previous Executive Chairperson of the Bigen Group. In 2018, she received a Lifetime Achievement in Engineering Award from SA Professional Services, sponsored by Sanlam and she has been nominated to the G20 Business Women Leaders Taskforce. In 2017 she was recognised by the Standard Bank Top Women Awards for her leadership in Bigen Africa - receiving the Top Gender Empowered Infrastructure Development Award.

During her tenure 2011-2016 and now since 2019 July]as CEO of Bigen Group, the company won over 30 business awards. She is respected for her passion in 'doing good while doing business' thus improving the quality of life of people.

Currently Dr Khoza sits at the Water Institute Advisory Board of University of Pretoria. She is an independent non-executive director at UBANK and non-executive chairperson at ETION. She is also the president of Agape Christian Women's Network (ACWN).