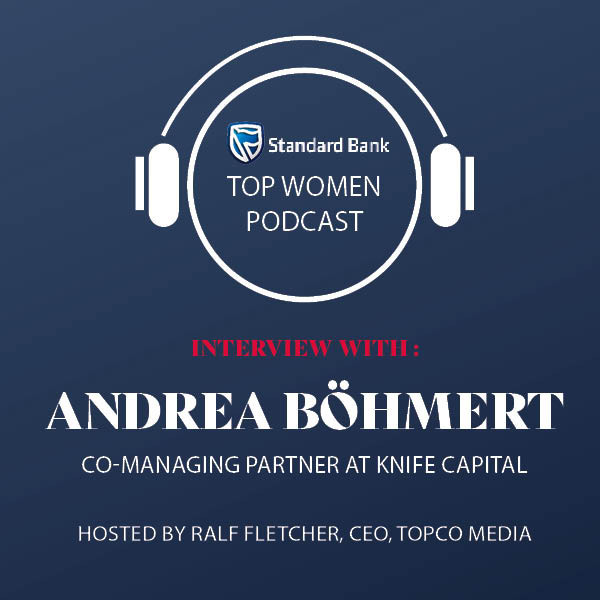 Andrea Böhmert Co-Managing Partner at Knife Capital
Co-Managing Partner at Knife Capital, Cape Town, Andrea Böhmert, is passionate about planning how to strategically and successfully scale businesses, and meeting the entrepreneurs responsible for building them. She is actively involved in numerous initiatives aiming to accelerate the African entrepreneurial ecosystem, and is a member of The Institute of Directors in South Africa NPC (IoDSA). Her mandate is simple: Make optimal use of knowledge, networks and funding.
In this week's Business Unusual podcast, Ralf Fletcher, CEO of Topco Media sits down with Andrea Böhmert to discuss a host of venture-capital-related themes, from addressing the COVID-19 induced disruptions and loss of workplace control, to long-term portfolios and making success stories heard. Andrea shines a light on important wisdom and learnings she's obtained throughout her career as a venture capital enthusiast, and provides solutions on how start-ups and entrepreneurs can secure their place in the entrepreneurial space in South Africa, and globally.

Andrea Böhmert is currently Co-Managing Partner at Knife Capital, located in Cape Town, South Africa. She is a high growth venture investor with extensive experience in all aspects of the investment cycle, and thoroughly enjoys the energy surrounding entrepreneurs. Andrea specialises in many areas, namely Growth Strategy, Exit Readiness, Investment Due Diligence, and International Expansion, for example. Knife Capital is an independent growth equity investment firm focusing on innovation-driven ventures with proven traction. By leveraging knowledge, networks & funding, they accelerate the international expansion of entrepreneurial businesses that achieved a product/market fit in a beachhead market.