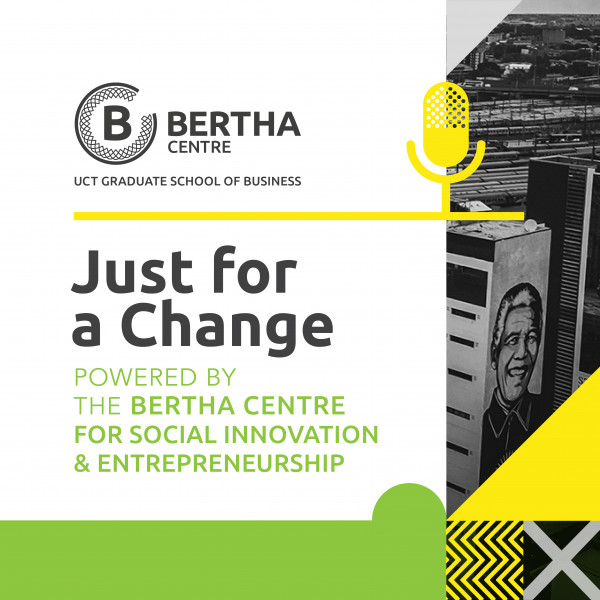 S1. Ep. 2: The youth's role in re-imagining our society post COVID-19
In this second episode of the 'Just for a Change powered by the Bertha Centre for Social Innovation and Entrepreneurship' podcast host, Kentse Radebe dives into the theme of the role of young people in South Africa in re-imagining our society post COVID- 19. With soaring unemployment rates and many systems failing the youth in South Africa, is there a light in this dark time? Do young people have what it takes?
In the feature story Kentse is joined by special guests Alana Bond of Lucha Lunako, a youth development organisation and Chad Robertson, a young social entrepreneur who is turning the world of recycling in its head. The conversation is rich and deep. You don't want to miss this one - especially if you're interested in creating impactful responses in the youth sector, for example creating a 'failure fund' for young entrepreneurs. Intrigued? Take a listen.
Fergus Turner brings us another 'Positive Outlook' story featuring young people from the community of Vrygrond, Cape Town who have been mobilising and creating change in their community during the pandemic. This is a case of necessity being the mother of all invention. Find out what has spurred these young people on to create positive change in their community during one of the worst times in human history.
If you're looking to change the way you change the world - this podcast is for you.
The links you need to know about:
Bertha Centre:
https://www.gsb.uct.ac.za/berthacentre
Lucha Lunako report in collaboration with the Bertha Centre for Social Innovation and Entrepreneurship:
https://www.luchalunako.com/wp-content/uploads/Youth-COVID-19-Quick-Poll-Report-Youth-Month-2020.pdf
Regenize:
https://www.regenize.co.za/
Lucha Lunako:
https://www.luchalunako.com/
Amave: Amavaoluntu
#VrygrondUniteforChange
The Hive:
https://web.facebook.com/TheHiveMuizenberg/?_rdc=1&_rdr
News24 article on youth in South Africa:
https://www.news24.com/news24/columnists/guestcolumn/opinion-young-people-can-lead-the-response