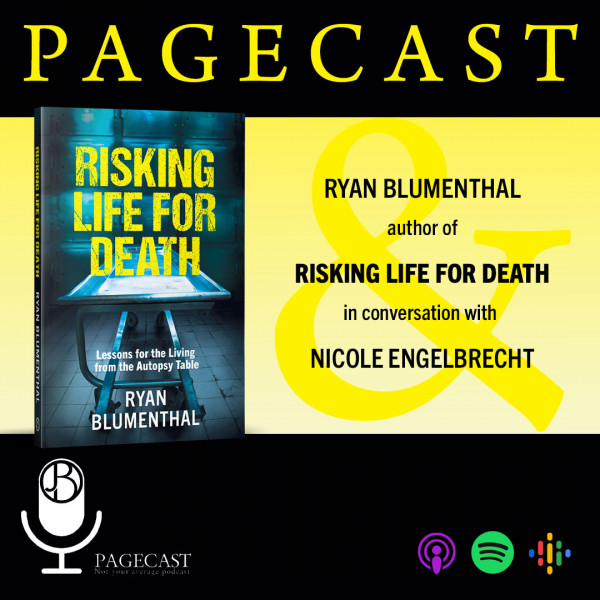 Risking Life for Death by Ryan Blumenthal
In this episode of Pagecast, Nicole Engelbrecht, True Crime Author and Podcaster, sits down with Ryan Blumenthal regarding his latest book, Risking Life for Death.

About the book:
Locard's Exchange Principle underpins all forensic science and holds that the perpetrator of a crime will bring something to the crime scene and leave with something from it.

Forensic experts use this principle daily to catch murderers and assailants. In Risking Life for Death, South African forensic pathologist Ryan Blumenthal offers a master class in this singular forensic technique based on real-life case studies. With more than twenty years' experience in the field, Blumenthal explains how to look for clues and traces, and how what he does not find at autopsy is often more important than what he does find. In other words, the absence of evidence can sometimes be of greater value than the presence of evidence.

His account also highlights the dangers forensic pathologists are exposed to daily. As they try to unravel the puzzle of someone's death, forensic pathologists often face life-threatening infections, toxic gases and the hazards associated with high-profile cases – in effect, risking their life to solve someone else's death.

An understanding of Locard's Exchange Principle can help you become a medical detective in your own life, can help you be a happier person and can even provide you with a better philosophy for growing older, Blumenthal argues.
About the author:
RYAN BLUMENTHAL is a forensic pathologist with more than twenty years' experience in the field, and he is based in South Africa. His book Autopsy: Life in the Trenches with a Forensic Pathologist in Africa, which was published by Jonathan Ball Publishers in August 2020, became a non-fiction bestseller in South Africa. His eight-part documentary Lightning Pathologist was aired from 9 to 20 November 2020 on People°s Weather (Channel 180) on DStv. It was viewed by over 2,2 million people.