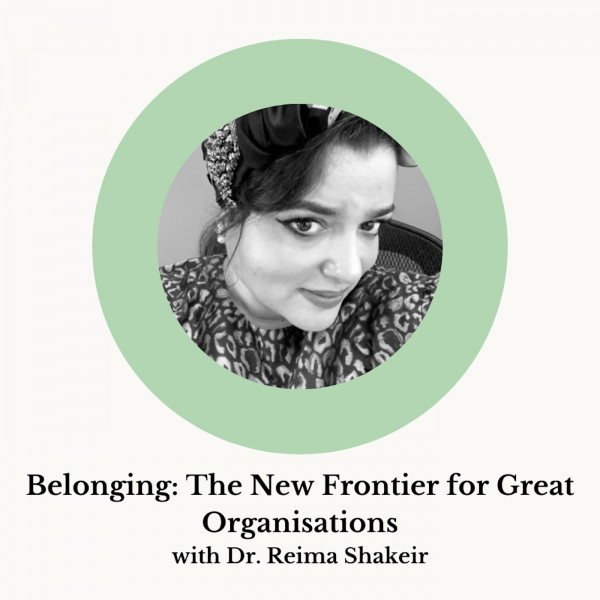 The New Frontier for Great Organisations | Reima Shakeir
In this short podcast, Reima Shakeir reflects on the current state of belonging and inclusion in business and academia. Reima sees a shared sense of belonging as the hallmark of advanced societies and communities - and the key to employee retention and happiness. As she says, "People want to be heard and to be seen - and that's it." She reflects on systems that are still nonetheless designed for exclusion and on those that exclude due to institutional carelessness or lack of awareness on the part of the leadership.

In this conversation, we explore what's working, why and where there is pushback. What are some of the simple things that organisations are doing that make a difference? Reima reflects on the fear of getting things wrong, especially when it comes to language and the need to gather hard data to support changes in the system.

Finally, she sees real-world person-to-person connection as the new frontier for great organisations – and brands - where the creation of a sense of belonging makes perfect commercial sense as well.

Reima Shakeir is a lecturer at Wharton School of Business and Stern School of Business. Dr. Shakeir teaches Organizational Communication and Business and Society courses at NYU's Stern School of Business. She also teaches research methodologies as part of the CLO (Chief Learning Officer) executive doctorate program at the University of Pennsylvania. Reima is also a Lecturer at Wharton and a partner at DEI Ready.
Research Interests include:
Impact Entrepreneurship and Inclusive Economy, Authentic Leadership, Diversity in the Business World, Equity in Higher Education, Impact Investing, Women and Identity Performance in the Public Space, Minority Women's Lived Experiences in the Corporate World, Gender Studies, and Organizational Sociology.