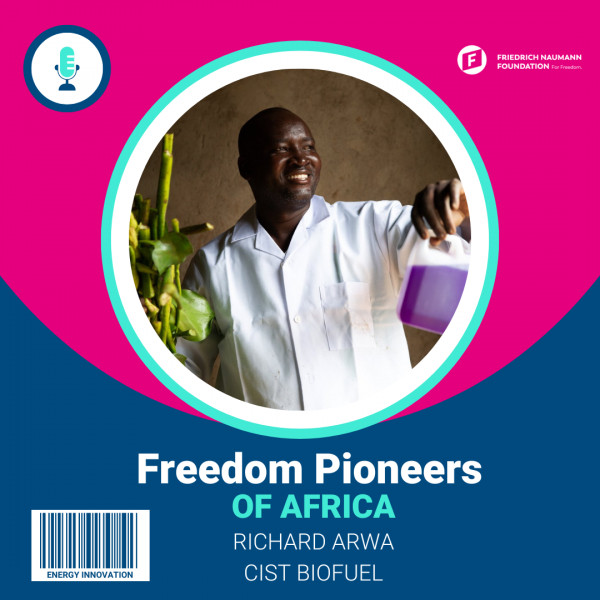 #9 Energy Innovation - Cist Biofuel
CIST Ethanol Fuel is a clean cooking ethanol made from invasive water hyacinth. While ethanol is traditionally made by adding yeast to products like sorghum, barley and sugar cane, CIST Ethanol Fuel uses water hyacinth, a plant found in abundance in Lake Victoria.
Chemist and high school teacher Richard Arwa started producing ethanol with two high school students for a science and engineering fair. Later, another competition encouraged Arwa to commercialise the product, prompting him to scale his production significantly from the single litre he was able to produce at a time at the high school laboratory.
Unlike other materials used to produce ethanol, water hyacinth contains strong cellulose bonds. Arwa manufactured an enzyme which breaks these bonds through fermentation, which takes place once the hyacinth has been cleaned and shredded. Laboratory tests found that CIST Ethanol has a low sulphur content and releases minimal emissions when burnt, making it safe for cooking.
Kenyans living in rural areas and informal settlements mostly use firewood, kerosene and wick stoves to cook, all of which are costly, pose fire hazards, and have severe health and environmental implications. CIST Ethanol is nearly 40% cheaper than kerosene, and sold to entrepreneurs in refugee camps, where they resell it to make an income. Arwa has built his own equipment to separate and distil the ethanol after finding that commercially available equipment, which produces 2,000 litres of ethanol per day, is unaffordable. He plans to manufacture and sell the equipment to other small businesses.
Arwa is exploring ways of using the solid and gas by-products created by the process, to ensure that he runs a zero-waste operation.

In the ninth episode of Freedom Pioneers of Africa, Richard presents his concept, which was broadcast across eighteen community radio stations in Malawi, South Africa, Zimbabwe, Tanzania, Namibia and Zambia. Listers give their thoughts on the projects presented by upcoming innovators and whether the initiative would work in their environments.
Richard also discusses his initiative with our resident Global Connector, Bianca Praetorius. Bianca is a startup pitch coach who offers insights into all things technology, digitisation and innovation.

The featured radio stations in order of appearance: Kharas Community Radio (DJ Mondeza), Omaheke Radio (Elias), Underground Radio (Keri), BCR FM (Jacob), UNZA Radio (Harry).
The featured languages in order of appearance: English, Kishwahili, Siswati.