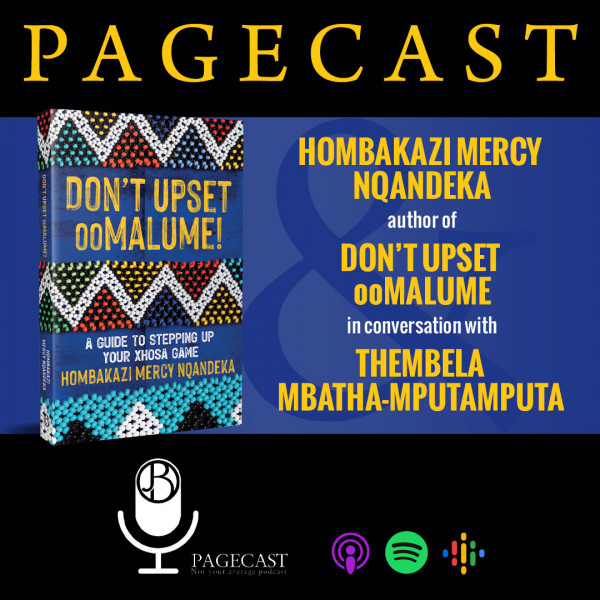 Don't Upset ooMalume: A Guide to Stepping Up Your Xhosa Game
In this episode of Pagecast, publicist and book lover Thembela Mputamputa is in conversation with Hombakazi Mercy Nqandeka, author of Don't Upset ooMalume: A Guide to Stepping Up Your Xhosa Game.

Returning to the family homestead in the Eastern Cape for the holidays, and worried that your city ways and less than perfect knowledge of Xhosa culture will get you a wagging finger in the face from ooMalume – the uncles?

No need to fret. Don't Upset ooMalume! captures the essence of Xhosa heritage and culture, and explores different aspects of village life. It covers a range of topics, from major Xhosa life ceremonies and traditional clothing, to the significance of uronta (the rondavel) and ubuhlanti (the kraal). Not forgetting the importance of traditional food, the author describes popular dishes, edible forage and even medicinal plants.

This book was born from writer and agriculturalist Hombakazi Mercy Nqandeka's concern that aspects of Xhosa heritage will be lost to future generations. By interweaving her guide to Xhosa culture with stories from her daily life at Mqele and Bulungula villages, and lessons taught to her by her mother and her late grandmothers, she hopes to help reconnect Xhosa people to their roots.

Akukho nto imnandi ngathi kukungeqiwa ziindaba xa kuncokolwa ngesiXhosa esintsokothileyo nesineziqhulo. Bathi bezincokolela abantu abadala bexuba nakwintetho yokuhlonipha ube usiva yonke into abayithethayo. Oko kubonisa ukuzingca nokuzingomba isifuba ngolwimi lakho lesiXhosa.

Le ncwadi yenzelwe abantu abasithandayo isiXhosa nabafuna ukufunda nzulu ngolwimi nenkcubeko yesiXhosa. Ungabadanisi ooMalume, lola isiXhosa sakho ngale ncwadi.

About Hombakazi Mercy Nqandeka:

Mercy is an agriculturalist and a writer with an unquenchable passion for Xhosa heritage and culture. Mercy has a double Masters degree in Agriculture Climate Change Transition from the National University of Ireland and the University of Montpellier SupAgro in France. She has published two books, The Dissonant Rainbow (2019) and To My Young Self (2020). She currently lives in Bulungula on the Wild Coast, where she works for an NGO to provide rural schools with access to clean water and sanitation. In her spare time, she beads stethoscopes with the help of local women.