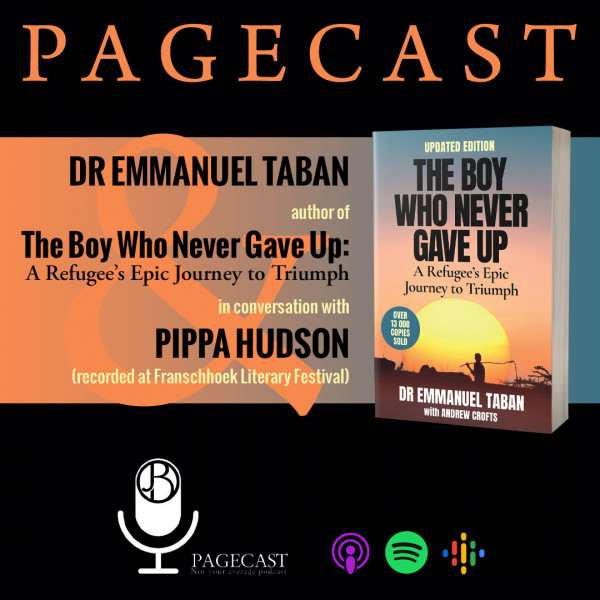 Pippa Hudson in conversation with Dr Emmanuel Taban, author of "The Boy Who Never Gave Up"
Pippa Hudson chats with Dr Emmanuel Taban (The Boy Who Never Gave Up), who is Daily Maverick's Africa Person of the Year. He walked from war-torn Sudan to JHB, survived torture and kidnapping, and then became a pioneering pulmonologist.

In 1994, the 16-year-old Emmanuel Taban walked out of war-torn Sudan with nothing and nowhere to go after he had been tortured at the hands of government forces, falsely accused of spying for the rebels, until he finally managed to escape.

When he arrived in Johannesburg, he had only five years of education behind him. Today this former MEDUNSA student is a highly qualified pulmonologist, with a European Diploma in adult respiratory medicine. During 2020, he was at the forefront of the treatment of Covid19 patients in ICU in Johannesburg. Dr Taban released his first book, The Boy who Never Gave Up in 2021.

Pippa Hudson hosts the lunchtime show on radio station Cape Talk, which includes a mix of news and lifestyle content, from food, travel and parenting advice to health, legal, environmental and consumer content.

As avid reader, Hudson loves inviting authors to join her in the daily feature profile slot 'On the Couch' and in her weekly Book Club segment.

The show was a winner in 2019 of a Titanium Award for Best Health Media Coverage, and a Diageo Award. In 2020 Hudson was the recipient of the Petco media award for coverage of recycling, waste management and environmental issues. Her show has also been a finalist in the Best Daytime Show category at the annual Radio Awards, for the last 4 consecutive years (2018-2021 inclusive).