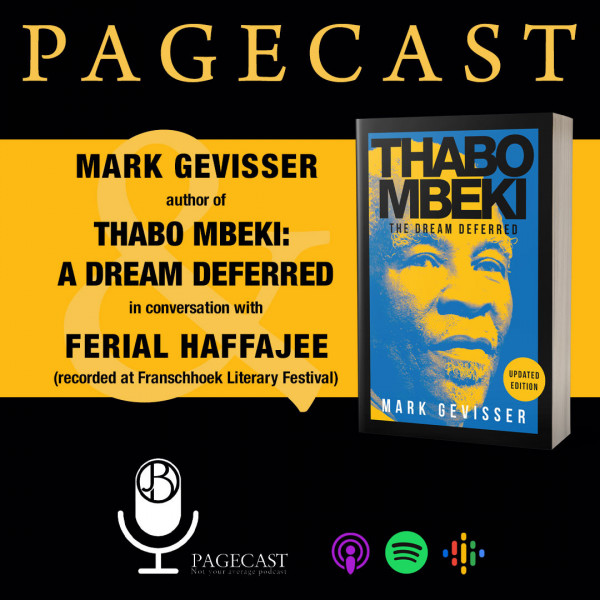 Ferial Haffajee in conversation with Mark Gevisser regarding his latest book " Thabo Mbeki: A Dream Deferred"
Did Thabo Mbeki set the table for state capture? Mark Gevisser's prize-winning Thabo Mbeki: A Dream Deferred has just been published in an updated and revised edition, and Ferial Haffajee tackles him on Mbeki's legacy.

Mark Gevisser is one of South Africa's foremost writers. He is the author of five works of non-fiction, including Thabo Mbeki: A Dream Deferred, Lost and Found in Johannesburg and The Pink Line (2020). His journalism has been widely published in South Africa and he frequently writes for the Guardian, The New York Times, Granta, and many other publications.

In 2022 a brand new edition of Thabo Mbeki: A Dream Deferred will be released, including a detailed epilogue exploring Mbeki's legacy since he fell from power 15 years ago.

Mark has been a Writing Fellow at the University of Pretoria and at the Wits Institute for Social and Economic Research (WISER). Since 2018, he has been a judge on the Gerald Kraak Award for writing on gender, human rights and sexuality in Africa. He lives in Cape Town.

Ferial Haffajee is a recipient of the 2014 International Press Freedom Award, Ferial Haffajee is one of South Africa's most trusted and respected journalists. She is known for her clear-cut political analysis and her unwavering dedication to the truth. Haffajee has worked in numerous print and online newsrooms including holding the positions of editor at City Press and the Mail and Guardian before joining Daily Maverick as Associate Editor. Her new book Days of Zondo will be published by Maverick 451 in 2022.