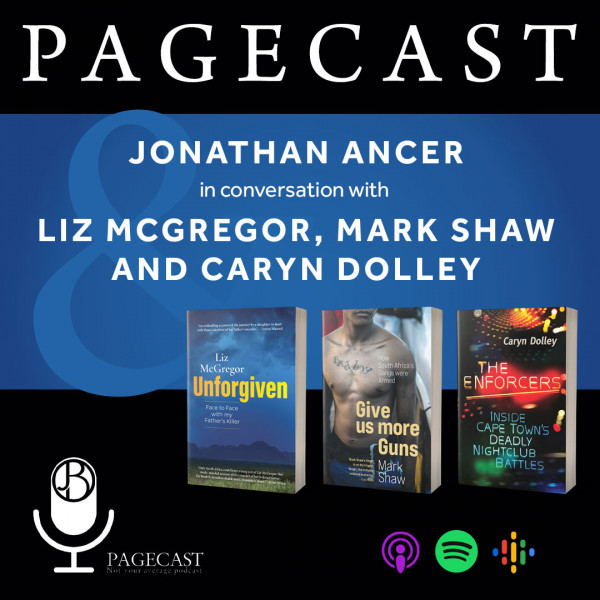 A look into South Africa's gangs: Jonathan Ancer in conversation with Liz McGregor, Mark Shaw and Caryn Dolley
A look into South Africa's gangs

Author Jonathan Ancer is in conversation with Liz McGregor, Mark Shaw and Caryn Dolley for this episode of Pagecast.

The episode delves into the lastest books by Liz, Mark and Caryn, which all touch on the role that gangs play in South Africa, personal dealings with gangs and the operations within.

Unforgiven, by Liz McGregor, tells a story seldom told: what happens to a family when one of their own is murdered? In a country where, year upon year, tens of thousands of people lose a loved one to violence. Where restorative justice is preached but not practiced. Where prisons are universities of crime. What would it take to achieve redemption? For the victim, the perpetrator and the country?

Give us more Guns, by Mark Shaw, is based on hundreds of interviews with police, experts and the gangsters themselves, telling the story of this callous crime for the first time. Shaw explores how the guns get into the hands of South Africa's crime bosses and describes the bloodshed that ensues. He also uncovers accounts of rampant corruption within the police and in the state's gun-licensing system, probing the government failure that has been instrumental in arming the country's gangsters.

To The Wolves: How Traitor Cops Crafted South Africa's Underworld, by Caryn Dolley, tells the true-life story of how South Africa's underworld came to be, what continues to fuel it today and how the deception and lies go all the way to the top.

Enjoy the episode!