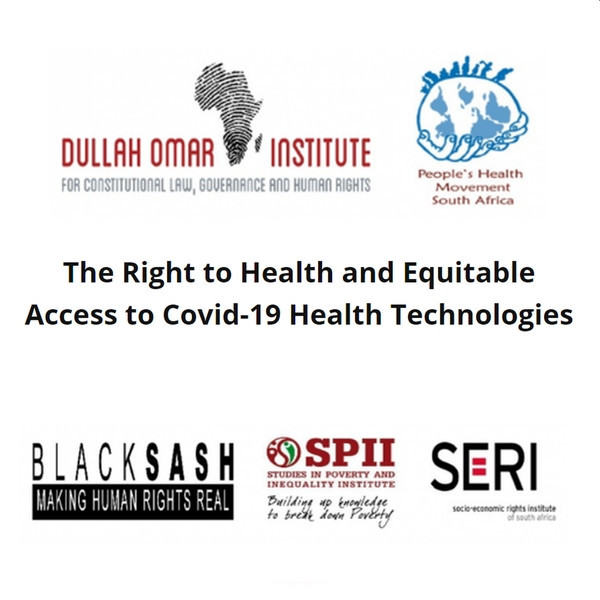 The Right to Health and Equitable Access to Covid-19 Health Technologies
Moderator:
Prof. Leslie London | UCT & PHM SA

Panelists:
Candice Sehoma - Médecins Sans Frontières (MSF);
Prof Rodrigo Uprimny – National Univ of Columbia. Member of the Committee on Economic, Social and Cultural Rights;
Prof. Yousuf Abdoola Vawda - Univ of KZN

During the pandemic, we have sharply highlighted the inequitable access to care and prevention for COVID-19, and the terrible impact that has had on the health of the most vulnerable in South Africa.

The inequity in the response to COVID-19 reflects the highly unequal and divided South Africa care system even prior to this.

Moreover, our legislative framework for access to medicines and health care technologies has long been problematic, denying people access to their rights to health care. In the joint Civil Society submission on South Africa's report to the Committee on Economic, Social and Cultural Rights (CESCR) in 2018, obstacles posed by patents were highlighted. The submission noted that "A patent law reform process began in 2009, but nearly a decade later, no new legislation has been enacted. Patent legislation that protects public health could help facilitate generic competition, cut prices and increase access to essential medicines." Fast forward three years, still no progress.

Access to medicine and health technologies has been clearly demonstrated under COVID-19 as a critical issue, with patents obstructing access to diagnostics for COVID-19. Obstacles posed by Intellectual Property barriers loom large as one of the key contributory reasons behind vaccine inequity.

The webinar seeks to answer some of these questions:

Why is there need for need for domestic patent law reform to achieve right to health
Is flexibilities and compulsory licensing is accessible in Africa
What does the right to health and the right to benefit from Scientific Progress mean in practice when we face barriers in access to health technologies?
What lessons can we draw from International Guidance on this matter?