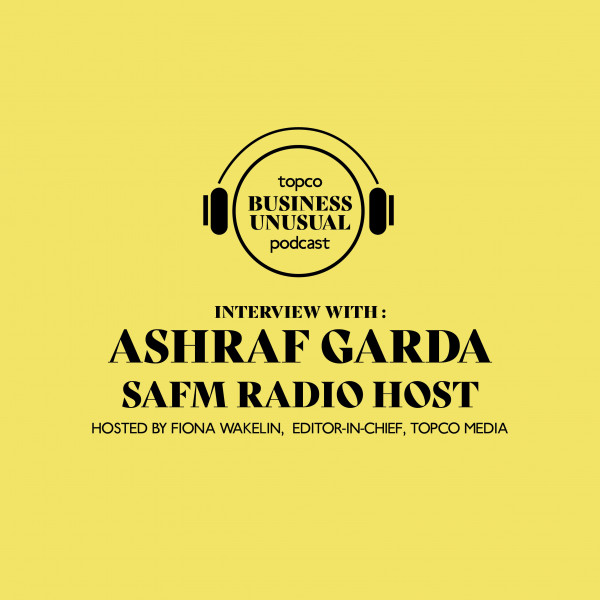 Be a champion - build optimism in the country! Ashraf Garda, SAfm Radio host
Be a champion - build optimism in the country! Ashraf Garda, SAfm Radio host, talks pushing the envelope for greater success

Ashraf Garda, known for his popular show on SAfm Radio, is a seasoned Programme Director and MC, who is highly-skilled in conference facilitation and moderation. Ashraf is the chief driver behind the project titled Champion South Africa - a nation building movement with the vision to move South Africa from a mid-table nation to a champion nation. Ashraf promotes excellence with his keynote talk titled 'Champion People Build Champion Nations' – a project that is great for team building, kickstart events, and organisations that need assistance in adopting a champion mindset

In this week's Business Unusual Podcast, Fiona Wakelin, Group Editor at Topco Media, chats with Ashraf Garda on themes surrounding success, building champions, and the media's impact on society. Ashraf talks passionately about surviving the Covid-19 pandemic, partnering with strategic partners, and how South Africa has the potential to grow into a winning nation.

Ashraf Garda is a multiple award winning broadcaster with many years of media experience under his belt. He is a former host of SAfm Radio, which was awarded 'Best Weekend Show' at the MTN Radio Awards. Ashraf was also voted 'Best News and Actuality Presenter' at the MTN radio Awards, and he is a recipient of the Turquoise Harmony Institute Media Award (Turkey). To complete his cycle of versatility, he has been invited to be an analyst on international channels, such as CNN, AL Jazeera, and CBC TV: Canada.

#ChampionSouthAfrica identifies and elevates champions and facilitates networking opportunities to uplift and create more champions across the nation. This project, along with its podcast, is a movement which celebrates the champion mindset as a crucial tool for fostering winning citizens and a winning nation.