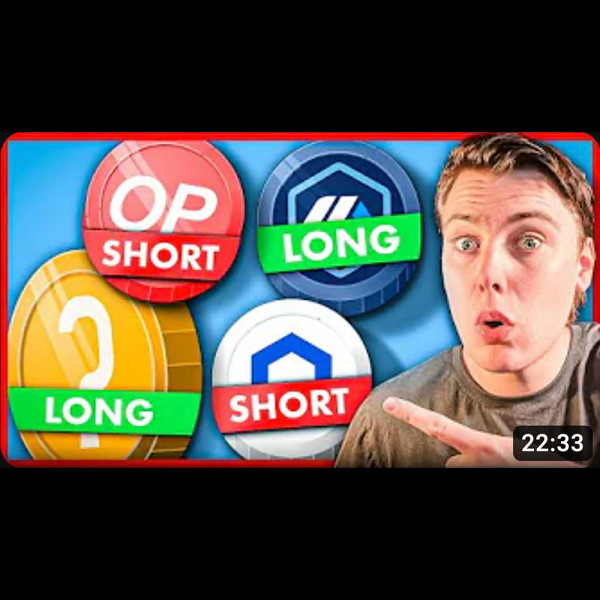 5 BIGGEST Opportunities In Crypto THIS WEEK! (I'm Taking These Trades)
Join Miles Deutscher for the top 5 crypto trade setups he thinks could be most profitable this week! While the crypto market is basically moving sideways and the Bitcoin price shows some volatility towards the downside, some altcoins are still showing strength and are worth taking a closer look at to find the perfect entries! Don't miss out!!

⚠️ 𝗕𝗘𝗪𝗔𝗥𝗘 𝗢𝗙 𝗦𝗖𝗔𝗠𝗠𝗘𝗥𝗦 𝗜𝗡 𝗢𝗨𝗥 𝗖𝗢𝗠𝗠𝗘𝗡𝗧𝗦 𝗔𝗡𝗗 𝗖𝗢𝗠𝗠𝗨𝗡𝗜𝗧𝗬 𝗖𝗛𝗔𝗡𝗡𝗘𝗟𝗦

- - - - - -

Crypto Banter is a live streaming channel that brings you the hottest crypto news, market updates, and fundamentals of the world of digital assets – "straight out of the bull's mouth"!! Join the fastest-growing crypto trading community to get notified on the most profitable trades and the latest crypto market update & news!!

𝗗𝗶𝘀𝗰𝗹𝗮𝗶𝗺𝗲𝗿:
Crypto Banter is a social podcast for entertainment purposes only!
All opinions expressed by the hosts, guests and callers should not be construed as financial advice! Views expressed by guests and hosts do not reflect the views of the station. Listeners are encouraged to do their own research.

#Bitcoin #Crypto #Altcoins

⏱𝗧𝗶𝗺𝗲𝘀𝘁𝗮𝗺𝗽𝘀:
00:00 Top 5 Crypto Trades To Make Money This Week
01:00 Trading Bitcoin - Technical Analysis
01:31 Trading Chainlink - SmartCon Latest Crypto News
04:15 SmarDex Weekly 5x $200 Giveaways
05:53 Arbitrum - Short-Term Incentive Program
08:06 Optimism Unlock - Short Opportunities Explained
11:00 OX Token - OPNX Exchange - Staking OX
14:30 Frax Share - FXS News & Price Action
17:11 Trading Altcoins - Banter Bubbles
18:11 Serenity Shield - StrongBox Asset Storage

Listen to more Podcast with Miles Deutscher.