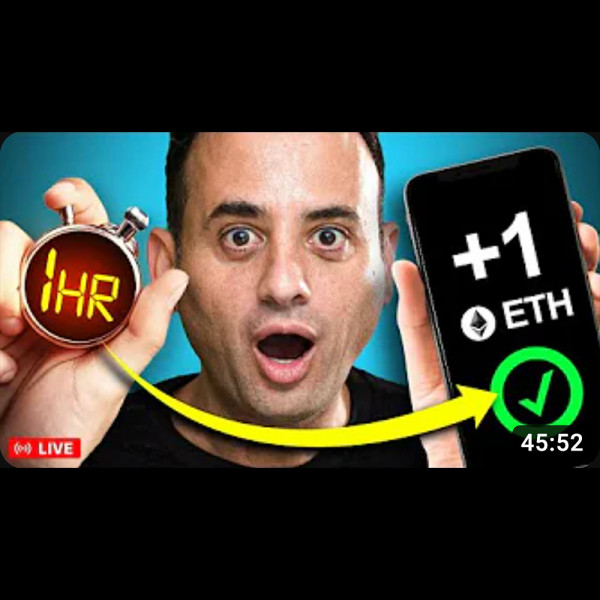 Make 1 ETH In JUST 1 Hour! How I Did It!
Join CryptoManRan on today's episode of Crypto Banter as he reveals how he made $1800 worth of Ethereum in only 1 hr! Also diving into the newly approved bill to ban the Federal Reserve from creating CBDCs! This is the most important fight, not only for Crypto and Bitcoin but for the future of civilisation!
⚠️ 𝗕𝗘𝗪𝗔𝗥𝗘 𝗢𝗙 𝗦𝗖𝗔𝗠𝗠𝗘𝗥𝗦 𝗜𝗡 𝗢𝗨𝗥 𝗖𝗢𝗠𝗠𝗘𝗡𝗧𝗦 𝗔𝗡𝗗 𝗖𝗢𝗠𝗠𝗨𝗡𝗜𝗧𝗬 𝗖𝗛𝗔𝗡𝗡𝗘𝗟𝗦
- - -
𝗦𝗽𝗲𝗰𝗶𝗮𝗹 𝘁𝗵𝗮𝗻𝗸𝘀 𝘁𝗼:
🎵 DJ Asher Swissa
- Track:
https://bit.ly/336wtix
- Channel:
https://bit.ly/31soP1j
- - -
𝗗𝗶𝘀𝗰𝗹𝗮𝗶𝗺𝗲𝗿:
Crypto Banter is a social podcast for entertainment purposes only!
All opinions expressed by the hosts, guests and callers should not be construed as financial advice! Views expressed by guests and hosts do not reflect the views of the station. Listeners are encouraged to do their own research.
#Bitcoin #CryptoNews #Altcoins
⏱𝗧𝗶𝗺𝗲𝘀𝘁𝗮𝗺𝗽𝘀:
00:00 FOMC, Crypto Market Update & DXY
05:20 Crypto Banter Plus - More Crypto Content
06:50 Bitcoin & Altcoin Prices Today
07:55 Crypto News - Mt. Gox Payout Delayed
09:16 Banter Bubbles Upgrade & US Market
12:07 Dot Plot & Interest Rate Hikes
14:58 Jerome Powell - Recession Looming?
17:20 US Dollar Index DXY & Oil Reserves
19:30 Russel Brand - Getting Canceled by YouTube
31:00 CBDC Efforts Opposed - The Danger of CBDCs
38:00 Friend.Tech - Post.Tech - Eclipse & Other Crypto News
Listen to more Podcast with RAN.