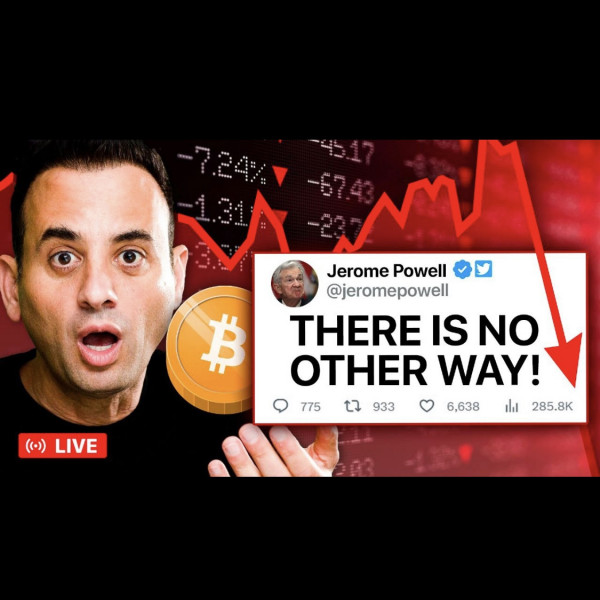 WHY A Bitcoin And Market Crash Is GUARANTEED! (What You DON'T KNOW)
All market indicators are pointing to a market crash, but did a new video just confirm what the next move in the markets is? If this is the case, which we will show you today, then Bitcoin and crypto is at a crossroad and might do something that no one expects! Don't miss today's Crypto Banter with Cryptoman Ran!
⚠️ 𝗕𝗘𝗪𝗔𝗥𝗘 𝗢𝗙 𝗦𝗖𝗔𝗠𝗠𝗘𝗥𝗦 𝗜𝗡 𝗢𝗨𝗥 𝗖𝗢𝗠𝗠𝗘𝗡𝗧𝗦 𝗔𝗡𝗗 𝗖𝗢𝗠𝗠𝗨𝗡𝗜𝗧𝗬 𝗖𝗛𝗔𝗡𝗡𝗘𝗟𝗦
- - - - - - - - -
𝗦𝗽𝗲𝗰𝗶𝗮𝗹 𝘁𝗵𝗮𝗻𝗸𝘀 𝘁𝗼:
🎵 DJ Asher Swissa
- Track:
https://bit.ly/336wtix
- Channel:
https://bit.ly/31soP1j
🎵 Marc Rebillet
- Track:
https://bit.ly/3pXQW21
- Channel:
https://bit.ly/332zhx9
- - - - - - - - -
𝗗𝗶𝘀𝗰𝗹𝗮𝗶𝗺𝗲𝗿:
Crypto Banter is a social podcast for entertainment purposes only!
All opinions expressed by the hosts, guests and callers should not be construed as financial advice! Views expressed by guests and hosts do not reflect the views of the station. Listeners are encouraged to do their own research.
#Bitcoin #Crypto #Altcoins
𝗧𝗶𝗺𝗲𝘀𝘁𝗮𝗺𝗽𝘀:
00:00 Crypto Market May Close & Asia Pump
05:30 Hong Kong Crypto Market Opening
07:15 New Hong Kong Regulated Stablecoin FDUSD
10:30 US Debt Ceiling Deal Passed Vote
15:43 US Treasury Debt Profile - Jerome Powell
21:17 Elon Musk on US Debt - US Dollar to Zero?
22:20 IRS Can Access User Trading Data
24:00 Interest Rate Hike Expectations
26:40 Trading on Decentralized Exchanges
29:23 ETH/BTC Trend - Ethereum Burned
31:30 ETH Shapella Upgrade & ETH Liquid Staking
33:14 How Liquid Staking Ethereum Works
38:45 Multichain Bridge News & Fantom Network
41:00 Astroport Sell-Off & Other Crypto News
Listen to more Podcast with RAN.