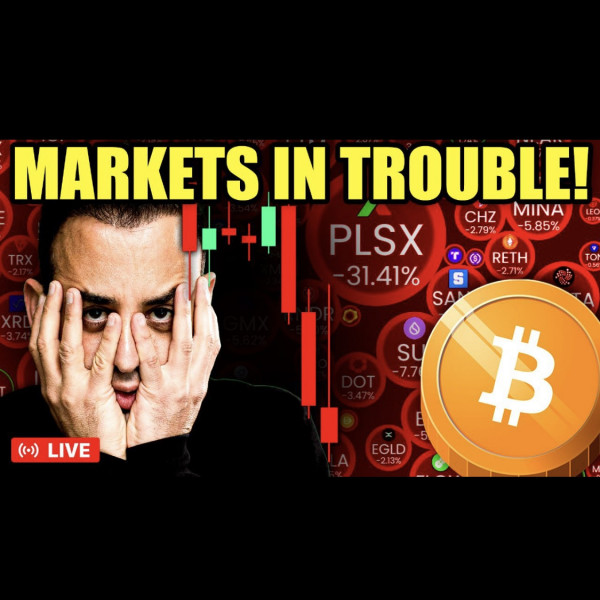 The Market Just Signaled A HUGE WARNING! (BITCOIN IN TROUBLE)
The markets have just signaled a warning on what could be happening next in the coming hours and days. Today we unpack what we think is the biggest Macro, Bitcoin, and Crypto Market catalyst for how things could get worse, very quickly. Time to pay attention! Don't miss this episode of Crypto Banter!!
⚠️ 𝗕𝗘𝗪𝗔𝗥𝗘 𝗢𝗙 𝗦𝗖𝗔𝗠𝗠𝗘𝗥𝗦 𝗜𝗡 𝗢𝗨𝗥 𝗖𝗢𝗠𝗠𝗘𝗡𝗧𝗦 𝗔𝗡𝗗 𝗖𝗢𝗠𝗠𝗨𝗡𝗜𝗧𝗬 𝗖𝗛𝗔𝗡𝗡𝗘𝗟𝗦
- - -
𝗦𝗽𝗲𝗰𝗶𝗮𝗹 𝘁𝗵𝗮𝗻𝗸𝘀 𝘁𝗼:
🎵 DJ Asher Swissa
- Track:
https://bit.ly/336wtix
- Channel:
https://bit.ly/31soP1j
- - -
𝗗𝗶𝘀𝗰𝗹𝗮𝗶𝗺𝗲𝗿:
Crypto Banter is a social podcast for entertainment purposes only!
All opinions expressed by the hosts, guests and callers should not be construed as financial advice! Views expressed by guests and hosts do not reflect the views of the station. Listeners are encouraged to do their own research.
#Bitcoin #Crypto #Altcoins
𝗧𝗶𝗺𝗲𝘀𝘁𝗮𝗺𝗽𝘀:
00:00 Crypto Market Update & Bitcoin News
02:28 AI Crypto Narrative & AI Tools
06:00 A360 Metaverse Adventure
08:05 ByBit Trading Competition - Tesla Winner
13:35 Bitcoin Price & Market Analysis
18:07 Asian Spot Exchange Volume & Growth Rate
20:45 Hong Kong Crypto Testing Ground f. China
24:12 EllioTrades - Crypto Regulations & China
28:18 US Debt Ceiling Vote Today
31:50 The Meme Coins Crypto Cycle Explained
37:30 Apple Developer Day & New Apple Headset
39:05 Crypto Market Low Liquidity Opportunities
41:40 Banter Bubbles & Injective Protocol INJ & FLEX
Listen to more Podcast with RAN.