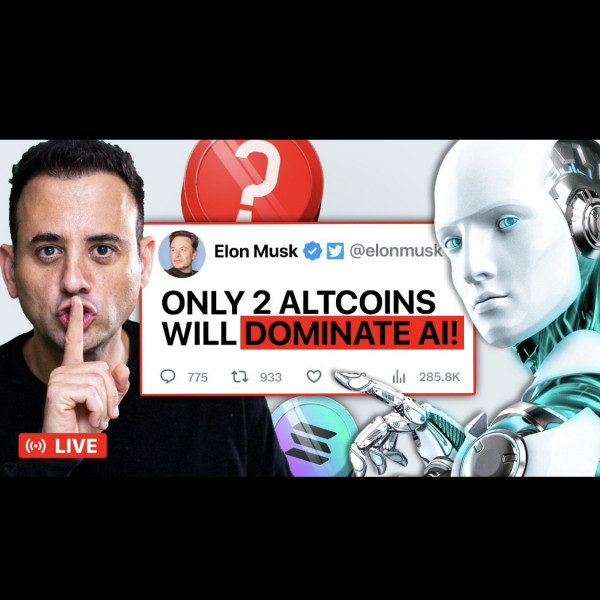 ONLY TWO ALTCOINS WILL BECOME AI WINNERS! (THE REST WILL DIE)
Nvidia has taken to the headlines as it approaches a $1 Trillion Market Cap. Today we compare the data and show you the 2 BEST AI Crypto plays that will be making the same headlines very soon! Join Cryptoman Ran in today's episode of Crypto Banter for a full market update and the latest crypto news! Don't miss out!!
⚠️ 𝗕𝗘𝗪𝗔𝗥𝗘 𝗢𝗙 𝗦𝗖𝗔𝗠𝗠𝗘𝗥𝗦 𝗜𝗡 𝗢𝗨𝗥 𝗖𝗢𝗠𝗠𝗘𝗡𝗧𝗦 𝗔𝗡𝗗 𝗖𝗢𝗠𝗠𝗨𝗡𝗜𝗧𝗬 𝗖𝗛𝗔𝗡𝗡𝗘𝗟𝗦
- - -
𝗦𝗽𝗲𝗰𝗶𝗮𝗹 𝘁𝗵𝗮𝗻𝗸𝘀 𝘁𝗼:
🎵 DJ Asher Swissa
- Track:
https://bit.ly/336wtix
- Channel:
https://bit.ly/31soP1j
- - -
𝗗𝗶𝘀𝗰𝗹𝗮𝗶𝗺𝗲𝗿:
Crypto Banter is a social podcast for entertainment purposes only!
All opinions expressed by the hosts, guests and callers should not be construed as financial advice! Views expressed by guests and hosts do not reflect the views of the station. Listeners are encouraged to do their own research.
#Bitcoin #Crypto #Altcoins
𝗧𝗶𝗺𝗲𝘀𝘁𝗮𝗺𝗽𝘀:
00:00 Bitcoin Price, Nvidia Stock & AI Altcoins
04:00 Banter Bubbles - Altcoin Prices & BTC.D
07:09 US Debt Ceiling Agreement Issues Explained
13:00 Nvidia & AI Narrative & Development
16:50 Best AI Company & AI Super Computers
20:50 Why is Nvidia the Best AI Performer?
24:01 First Investors in AI Stocks
25:10 Cathie Wood on Nvidia - ARK Price
26:50 Demand for GPU Power - Render RNDR
33:11 Best AI Blockchain - AGI & RUST
37:15 Solana - Best Blockchain for AI?
40:30 ETH Liquid Staking Protocols Explained
44:00 Bitcoin Ordinals - Stargate
47:40 Crypto Total Market Caps vs Active Users
50:40 Daily Crypto Twitter Spaces w. Mario Nawfal
Listen to more Podcast with RAN.