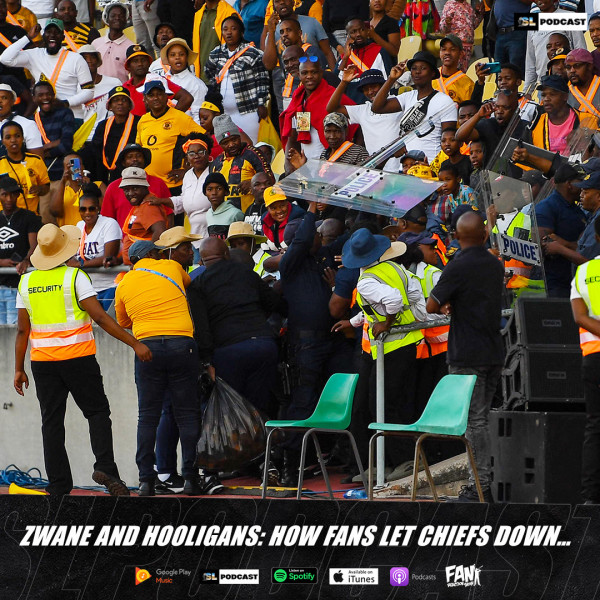 Zwane and Hooligans: How Fans Let Chiefs Down…
Kaizer Chiefs have lost yet another game, making them winless in 4 matches. Their most recent loss, came at the hands of former Kaizer Chiefs Coach Gavin Hunt; as he and his SuperSport United downed Chiefs 1-0 when they met on Saturday 13 May at the Royal Bafokeng Sports Palace. Khosi Nation is seemingly losing patience with the former Chiefs player-turned coach and the actions shown by a handful of radical supporters bring light to this. Zwane was subjected to an attack by Chiefs fans, having bottles and other objects thrown at him when he was leaving the technical area. Zwane suffered minor injuries, but it would appear as though these fans might suffer major consequences. Acts of hooliganism and anarchy have no place in the sport, let alone our stadiums which is why this incident brings heavy emotions to Mzansi.

The frustration that Khosi Nation is going through is justified and understandable, but the actions are not. Chiefs are trophy-less in 8 years, and they are going to finish yet another season without any silverware since their departure from the Nedbank, at the hands of their noisy neighbours Orlando Pirates. Many fans are suggesting the 'hooligans' at fault, need to be prosecuted for their actions.

During this past week, Kaizer Chiefs management have been quoted saying that they will review Wane's performance come season end, to see if the technical team needs a beef up. Many fans have agreed with this ideology and suggest that Zwane should be demoted to assistant coach, or even a youth coach to gain the invaluable experience needed to coach a team, with a history as big as Chiefs. Mzansi is hoping for a well-versed coach to take the reigns off of Wane's hands, hoping trophies are going to be around the corner.

What occurred at the Royal Bafokeng Sports Palace has since brought on a scare for the club, recently announcing stricter safety protocols for Chiefs match against Cape Town City on Saturday 20 May. Stadium Management hanging director has said that the South Africa Police Service (SAPS) will be on duty in full force come Saturday, as well as security, to be ready for whatever these hooligans are potentially planning.

On the latest episode of the Fan Reaction Show, PSL fans share their thoughts on the incident which transpired after Chiefs lost to SuperSport United. They share their thoughts on whether or not Arthur Zwane is the right man for the job and suggest that acts of this nature, concurrent with anarchy and hooliganism should not be tolerated!