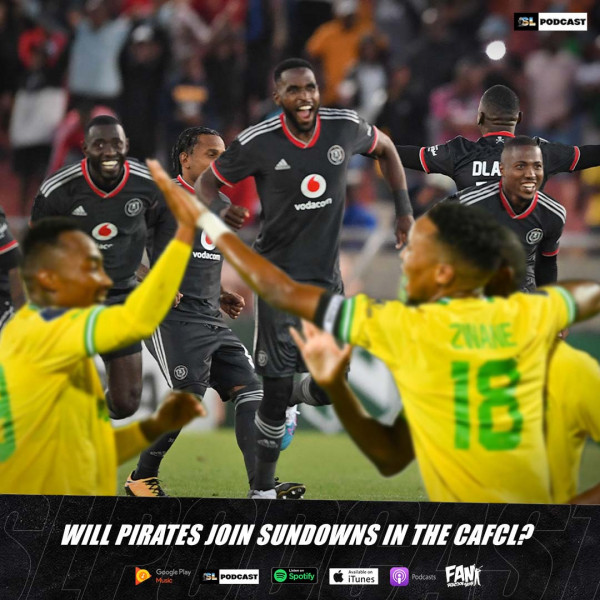 Will Pirates Join Sundowns In The CAFCL?
The 2022/23 Dstv Premiership title race is well and truly over, but we have an exciting race for second place on our hands. Orlando Pirates, SuperSport United, and Kaizer Chiefs are battling it out to become the second team to represent South Africa in the CAF Champions League. 6 points operate second place Pirates and fourth-placed Chiefs. Gavin Hunt's SuperSport United make up third place with 48 points. When speaking on the Fan Reaction Show, one fan suggests that SuperSport United and Kaizer Chiefs are making things easy for Pirates with their disappointing results. Pirates will have it all to play for to join Sundowns.

South Africa is home to one of the most magnificent stadiums on the continent, Soccer City. Also known as the FND stadium, many are concerned about the attendance that this stadium sees. With a capacity of over 94 000 (ninety-four thousand), we rarely see a sold-out stadium, unless the Soweto Derby is being played, or if Mamelodi Sundowns are in town to face off against Chiefs or Pirates. One fan thinks it's because of the size, and when you are the number of tickets sold and place those fans in a smaller stadium, the turnout is actually really good.

When Royal AM traveled to Soweto to face Orlando Pirates, die-hard soccer Fan Mam Joy was denied entry into the match with many suggesting it was because she changed allegiance. Mama Joy was a Pirates fan through and through, but recently made the switch to Royal AM. Videos surfacing on social media suggest her right of entry, with the ticket she purchased, was denied in a calm matter. But the fact remains. Mama Joy eventually goes into the stadium, 57 minutes after kickoff. One cannot forget that this has happened before. It started with Bafana Bafana coach Hugo Broos, then TS Galaxy Chairman Tim Sukazi, and now Mama Joy. Is it time that the PSL and SAFA step in to intervene to stop this barbaric behaviour?

On the latest episode of the Fan Reaction Show, Mzansi expresses their opinion on whether or not Orlando Pirates can qualify for the CAF Champions League and claim the second spot on the Dstv Premiership table. The fans discuss the troubling issues of the Soweto Stadium sitting empty during matches and also share their thoughts on Mama Joy being denied entry into the stadium for the Orlando Pirates vs Royal AM match.