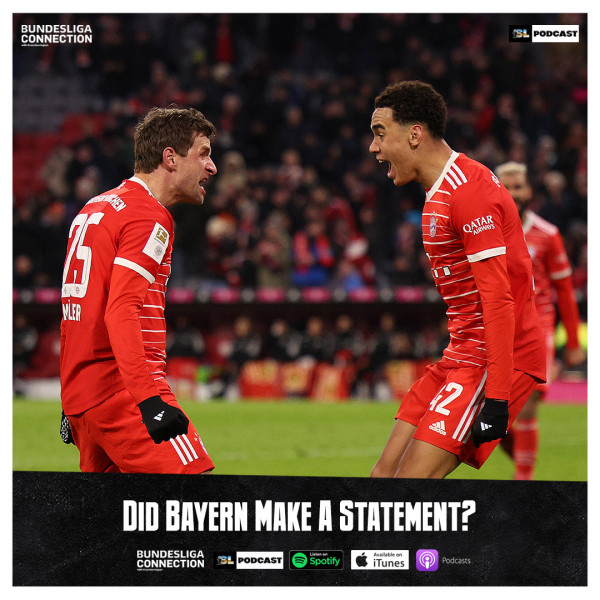 Did Bayern Make A Statement?
Bayern Munich hasn't had the best run during the course of 2023. Although they have just about maintained the top spot, other teams such as Borrusia Dortmund and surprisingly Union Berlin are forcing the Bavarian giants to stay on their toes. A mouthwatering clash between Bayern Munich and Union Berlin was enough for Bayern to send the rest of the league a message - Know the pecking order. Bayern put eased to a 3-0 victory over the traveling outfit from the capital sitting, slotting 3 goals in the first half. The loss for Union Berlin means that they now occupy 3rd spot in the standings, with 43 points. Bayern maintained the title as log leaders, now with 46 points. This victory could be thanks to a secret meeting that was called by head coach Julian Nagelsmann, a heart-to-heart if you will. Nagelsmann explained to his team what it meant to play for Bayern and this was clearly moving enough for his team to outplay a dangerous team.

Borussia Dortmund emerged victorious against Hoffenheim, scrapping together a 1-0 win. A stunning free-kick by Julian Brandt was enough for Dortmund to claim all 3 points, and claim second position in the standings. Although Dortmund only occupied the top spot for a short while, they got a feel of what it was like to lead the league, which will for sure prove to be a motivating factor moving forward. Statistically, Dortmund has the most wins in the Bundesliga thus far, more than Bayern Munich too, so this victory came as no surprise. But the real question has been revealed - Can Dortmund keep the pressure on Bayern?

On the latest episode of the Bundesliga Connection, DW Sports correspondent Kres Harrington analysis Bayern's ferocious performance against Union Berlin and explains that Borrusia Dortmund is still very much in the title race. Kres also looks ahead to the next match day and explains what he thinks will happen!