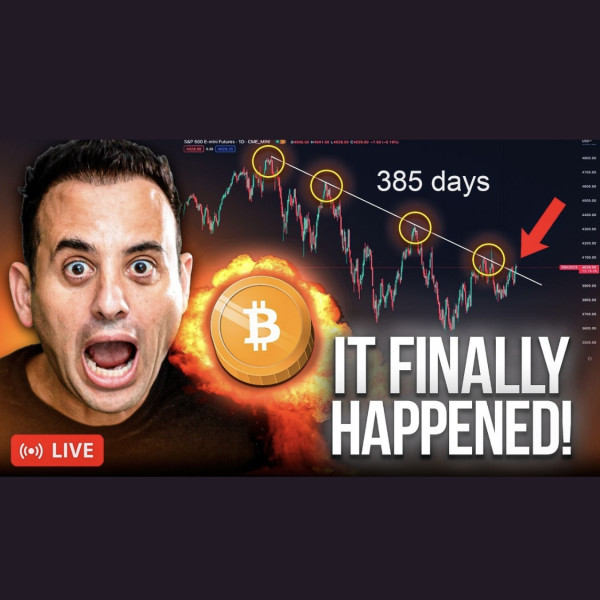 SCREAMING CRYPTO SIGNAL FLASHES AFTER 385 DAYS!
Bitcoin and Altcoins could be making the most explosive move we have seen in years, after this massive indicator just flashed a screaming signal last seen 385 days ago! Don't miss today's episode of Crypto Banter and stay up-to-date on the latest development in the crypto market at all times!!
𝗗𝗶𝘀𝗰𝗹𝗮𝗶𝗺𝗲𝗿:
Crypto Banter is a social podcast for entertainment purposes only!
All opinions expressed by the hosts, guests and callers should not be construed as financial advice! Views expressed by guests and hosts do not reflect the views of the station. Listeners are encouraged to do their own research.
#Bitcoin #Crypto #Altcoins
𝗧𝗶𝗺𝗲𝘀𝘁𝗮𝗺𝗽𝘀:
00:00 Show Summary & Intro
02:20 S&P 500 Market Indicator
03:40 Gareth Soloway Joins the Banter
08:06 Bitcoin Technical Analysis
12:45 Interest Rate Hikes 2023
17:46 Crypto Bull Market Indicators
23:00 Bitcoin Halving Progress
28:03 Crypto Market Cycles & Pullbacks
30:10 This Week's Financial Market Events
32:50 Recession, Earnings & Interest Rates
34:20 Trading Altcoins - Aptos & Fantom
35:50 Canto, Ethereum, Conic & Gains Network
41:30 ByBit & Bitget Rolex Giveaways
44:15 How to Trade Options with Crypto
𝗠𝗼𝗿𝗲 𝗩𝗶𝗱𝗲𝗼𝘀:
WATCH MORE CRYPTO SHOWS
https://www.youtube.com/watch?v=xZk1K
...
WATCH CRYPTO BANTER SPECIALS HERE
https://www.youtube.com/watch?v=EXTQ2
...
𝗥𝗲𝗹𝗮𝘁𝗲𝗱 𝗦𝗲𝗮𝗿𝗰𝗵𝗲𝘀:
Altcoin News - Bitcoin Price - Bitcoin 2023 - Bitcoin Price Prediction 2023 - Bitcoin News - Bitcoin Today - Bitcoin News Today - Best Altcoins - Crypto News - Crypto Market - Crypto Market Update - Crypto News Today - Top Altcoins - Bitcoin Price Target - Bitcoin Target - BTC Price Target - Cryptoman Ran - Ran Neuner - Decentralized Leverage Trading - Banter - Banter Crypto - Crypto Banter - Crypto Banter Today - Crypto Banter YouTube - Crypto Banter Live - Crypto Signals - Gareth Soloway