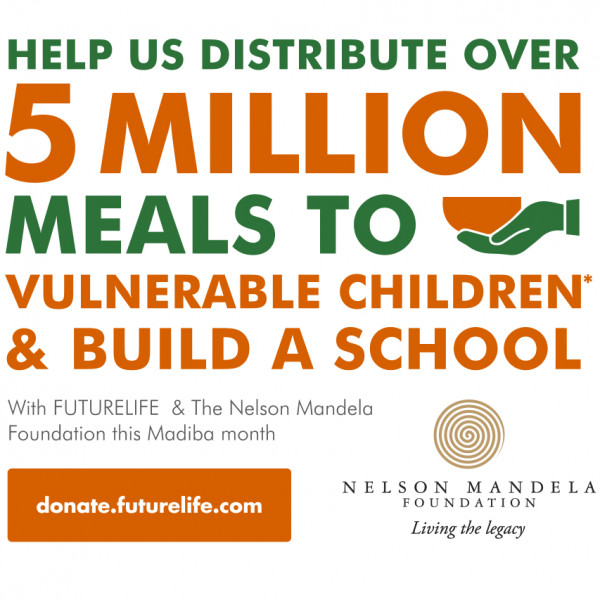 FUTURELIFE® fed up with Hunger
Mrs. Feziwe Gambo, an enthusiastic Principal at House-Kids Educare Centre, an ECD center located in the Ezimbokodweni area, south of Durban, sits at her office preparing for her day whilst also watching her children arrive at a bowl of FUTURELIFE® porridge. For many of the children in her centre, this is usually their first meal. Feziwe is filled with contentment as she knows that this meal will be enough to kick start their day and give them the much-needed energy and nutrition to begin learning in the right way.

According to FUTURELIFE® Managing Director, Mark Bunn, the campaign raised the awareness that was so desperately needed. He extends his thanks to the South African public and all the company's partners and donors who supported the project in its mission to distribute five million meals.

"Furthermore, we are also grateful to the social media influencers and media houses who used their platforms to reach a wider audience; they have played a massive role in helping FUTURELIFE®, the Nelson Mandela Foundation & HOPE worldwide South Africa to raise awareness and benefit children in need."
"With all of this support, we are well on our way to reaching our target," Mark reports. "All funding received during Mandela Month will be going to the Nelson Mandela Foundation to support their ECD Programme. But it doesn't end there."

Mark says that FUTURELIFE® will continue to work with both the Nelson Mandela Foundation and the national NGO, HOPE worldwide SA, which has been collaborating with FUTURELIFE® for many years to address hunger and malnutrition amongst vulnerable children.

"Through valuable partnerships such as these, we will continue to reach more children with better nutrition," says Mark. "FUTURELIFE® began in 2007 as a social project to help improve the lives of malnourished and disadvantaged people in Sub-Saharan Africa. The aim then was to create the most nutritional product possible at the lowest cost and with total convenience. Through ongoing scientific development, this ethos remains the driving force in the business today and we will continue to use both our products and our brand as a force for good."

Every child deserves to get the right start in life and Mark believes that it is up to ordinary people to make this happen. "Let's live every day as if it is Mandela Day," Mark concludes.