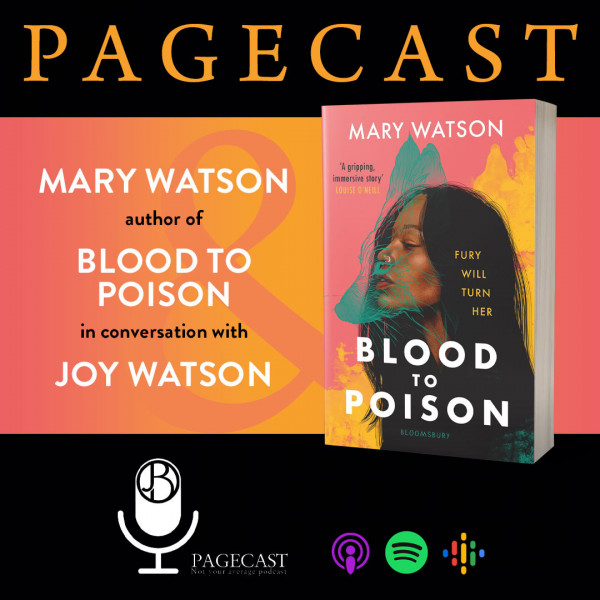 Joy and Mary Watson chat about Mary's latest book, 'Blood to Poison'
About the book

Seventeen-year-old Savannah is cursed. It's a sinister family heirloom; passed down through the bloodline for hundreds of years, with one woman in every generation destined to die young. The family call them Hella's girls, named for their ancestor Hella; the enslaved woman with whom it all began. Hella's girls are always angry, especially in the months before they die.

The anger is bursting from Savannah - at the men who cat-call her in the street, at her mother's disingenuous fiancé, even at her own loving family. Each fit of rage is bringing her closer to the edge and now Savannah has to act to save herself. Or die trying. Because the key to survival lies in the underbelly of Cape Town, where the sinister veilwitches are waiting for just such a girl.

Blood to Poison is a furious and mesmerising story about discovering magic, historical rage and love in all its guises.

About Mary Watson
Mary Watson is a South African author who won the Caine Prize in 2006 for her short story Jungfrau. Watson is the author of Moss, a collection of short stories published in 2004. Watson completed her master's degree in creative writing under André Brink at the University of Cape Town. Jungfrau originated as part of this 2001 master's thesis. After receiving a second master's degree at the University of Bristol in 2003, she returned to Cape Town to teach film studies while pursuing a PhD. Watson has lived in Galway, Ireland, since 2008. Blood to Poison is her third novel for young adults and the first rooted in her South African heritage.

About Joy Watson
Joy is a feminist researcher and writer. Her areas of specialisation are analysing public policy and service delivery, as well as tracking funding flows from the perspective of building social equity. She has many years of experience in developing feminist responses to public policy and has worked on research initiatives in South Africa as well as internationally, including for the UN Habitat's Safer Cities programme and UN Women initiatives. Together with Amanda Gouws, she has co-edited the book, Nasty Women Talk Back: A Collection of Feminist Essays on the Global Women's Marches (Imbali, 2018). You can find her book reviews and reflections on life and its joys and sorrows on the pages of Daily Maverick Life. Her debut novel, debut novel, 'The Other Me', published in 2022 is a gripping read about love, life and the harrowing lengths one woman will go to survive.

Enjoy this exciting, casual and funny chat between the overly talented Watson sisters.