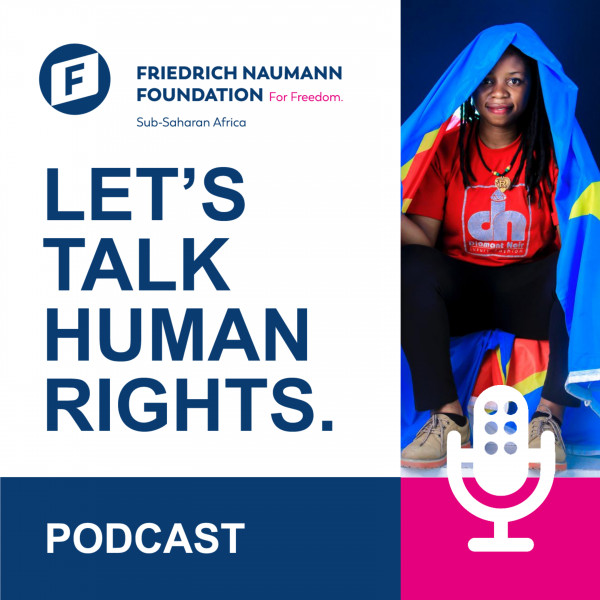 #3 S03.E03 - La fille de la RDC : Courage, persévérance et espoir
Nous vous souhaitons la bienvenue à notre podcast spécial "Parlons Droits de l'Homme". Aujourd'hui, nous vous emmenons dans un voyage à travers le paysage des Droits de l'Homme en République démocratique du Congo.

Notre collègue, Mme Mascheba Mdaka, se joint à notre invité Mme Rebecca Kabuo. Rebecca représente une nouvelle génération d'activistes de la RD Congo. Elle est affectueusement connue comme "l'une des plus jeunes prisonnières politique au monde".

Née à Goma, en RD Congo, en 1994, Rebecca est titulaire d'un diplôme en psychologie clinique. Elle a grandi dans un contexte de guerre, de pauvreté, d'injustice sociale et de mauvaise gouvernance, qui l'a indignée et l'a poussée à rejoindre la lutte non violente pour le changement connue sous le nom de LUCHA (Lutte pour le changement).

En mars 2017, elle a reçu le prix international "Women of Courage" décerné par le département d'État des États-Unis. En mars 2018, Rebecca a été annoncée comme l'une des 100 femmes les plus influentes de la RD Congo. Aujourd'hui, elle est la coordinatrice de l'organisation à but non lucratif TENDO, qu'elle a créée après son emprisonnement, et qui œuvre pour soutenir les détenus, notamment les femmes et les enfants.

En décembre 2019, elle a obtenu le prix "Young Activisit Summit", décerné à Genève et y est retournée en février 2020 pour participer à la conférence intitulée, "Geneva Summit for Human Rights and Democracy".

Suivez cette émission spéciale, qui est également disponible en français. N'oubliez pas de vous abonner.