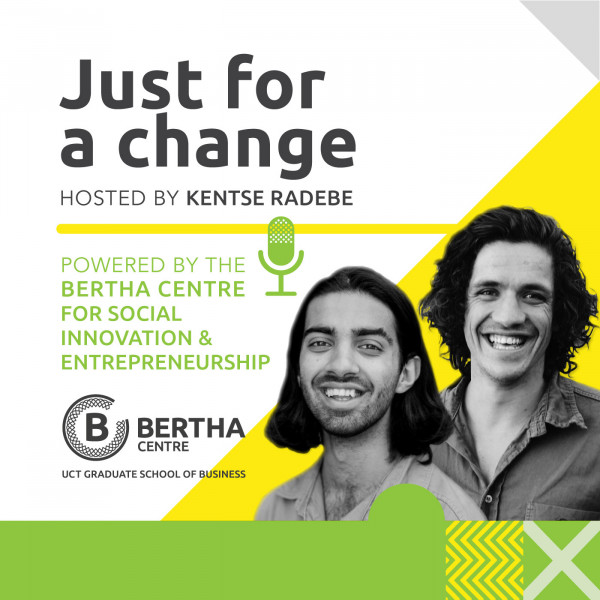 Ep 10. Changing the way we're financing the world
Investors around the world are reimagining how capital can be utilised to have a positive impact on the world. How, you might wonder? Through impact investing. Impact investing can be a technical and sometimes hard to grasp concept. In this episode we find out more about the world of impact investing, innovative finance and the way that this new thinking and practice is driving social innovation, justice and positive change forward.

In this episode's Feature Story podcast host, Kentse Radebe, chats to Bertha Centre innovative finance team member, Stephen McCallum and special guest Zak Essa. Stephen is a senior analyst at the Bertha Center and shares some insights into the practicalities of how innovative financing models are being used. Zak has years of experience working with start-up businesses and has recently joined the innovative finance team as a consultant. If full blown for profit business is at one end of the spectrum and purely philanthropic funding efforts on the other end of the spectrum - then innovative financing falls somewhere along this spectrum. How do early stage businesses get the help they need when the risk is very high for traditional investors? How do we close that funding gap? These and other fascinating questions are discussed in this episode.

In this episode's Positive Outlook segment Simnikiwe Xanga speaks with inspiring social entrepreneur and founder of Ground Culture, Sebastian Daniels. Ground Culture was founded in early 2018 as a platform to develop and grow support for entrepreneurs in and around Cape Town. They believe that by supporting local business, you help grow the economy and aid in the creation of jobs and entrepreneurial development. Sebastian shares some of his journey in starting Ground Culture and how they've pivoted during the Covid-19 pandemic.