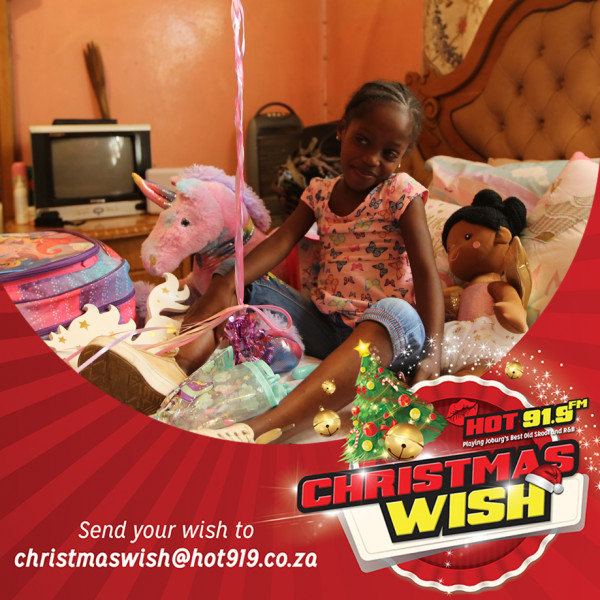 ZOE AND MAMA GUSTA GET SOME CHRISTMAS CHEER
Blu wrote into Christmas Wish to nominate a little girl named Zoe who lives with her Gogo in Kliptown. Her father passed away in October 2018 and Mama Gusta (her Gogo) uses her pensioners grant to support Zoe in every way possible.
Blu says "Mama Gusta is a wonderful and strong woman who longs for her son every single day as she witnesses Zoe living her best life every day, which is difficult when one has so little."
Zoe's father was a brilliant musician based in Kliptown, Soweto. He was a guitarist, Jembe and vocalist in various bands. Gregory's priorities were steadfast, make music and perform to provide for his daughter and his Mama. Mama Gusta really does need assistance with caring for Zoe. Her schooling is important but so is taking care of her at home.
Mama Gusta is a 61 year old woman who currently has a broken fridge that she uses as a cupboard, she does all the washing by hand, and her transport costs just to get Zoe to school each month are R350. They don't have anywhere to cook and there is no money for stationery.
The Christmas Wish team Bunny decided to brighten up Zoe's life a little by getting her and Mama Gusta a new bed, and creating a unicorn theme all across the bedroom. We also got Zoe a pink schoolbag with a R5,000.00 for clothing and stationery. We went one step further and bought a new fridge, gas stove, washing machine and R5,000.00 grocery voucher.
This wish was made possible by an anonymous donor who had called in after Christmas Wish started and wanted to be part of what we do. Thank you for making Zoe and Mama Gusta's Christmas a little brighter.