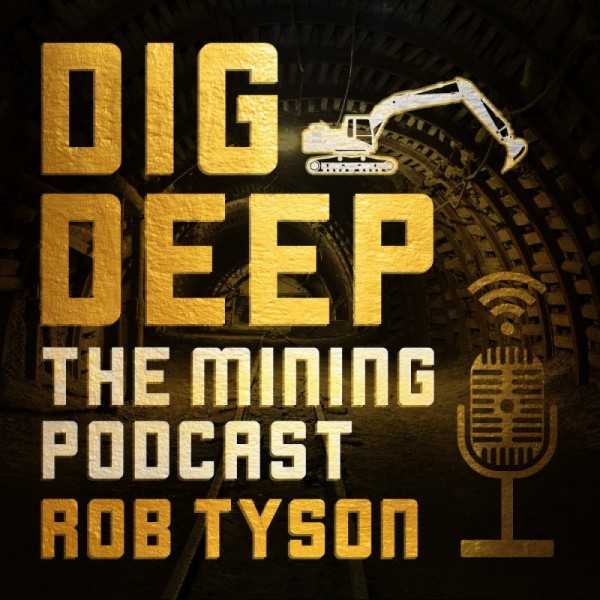 #001 Welcome To Dig Deep The Mining Podcast
Welcome to the first ever episode of "Dig Deep" The Mining Podcast! Today, let's meet the host, Rob Tyson, and know more about what he's got something up his sleeve for the next episodes!
Aside from being the Director of Mining International Ltd., Rob is passionate about helping the mining community and aims to do it through this podcast. Rob lets you in the reason why he chose the podcasting platform, how he plans to interview mining people, and how you could be part of this endeavour.
In the next episodes, Rob will be chatting with mining pioneers, experts, and professionals about their stories – the journeys they went through that were full of challenges and also successes that have affected their personal lives and careers. There will also be non-mining topics that will be covered but will surely help you in your journey in mining.
Rob also insists that you subscribe to "Dig Deep" The Mining Podcast on iTunes, Stitcher, or on any of your favourite podcasting apps to give suggestions and feedbacks. Let's discuss!
KEY TAKEAWAYS
Rob has been in the recruitment industry for 18 years in and outside the UK. He started working for an industrial recruitment agency in the year 2000. After that, he decided to live in Australia and worked for different companies for the next year. It was in 2008 that his consultancy company let him start a mining division. He was learning and contributing a lot in his field.
In 2013, he had to go back to the UK to be with his family. It was also the year he started his own mining recruitment company, Mining International Ltd.
Why start a podcast that focuses on mining? Rob is passionate to help the mining industry by providing valuable content and solutions to real-life situations. He will interview mining professionals that are happy to share knowledge, stories, and tips to the mining community.
100 million people are involved in mining worldwide. It's an important livelihood on poverty-affected areas. Many outside the mining industry are not aware how important is mining to their everyday lives.
If you want to be one of the guests, make sure to contact Rob. You can share your mining-related stories and at the same time showcase your company, projects, advocacies, etc.
BEST MOMENTS
"So, why am I doing this podcast? A few reasons... I wanna give something back to the mining community. I've been working in this industry now for nine ...